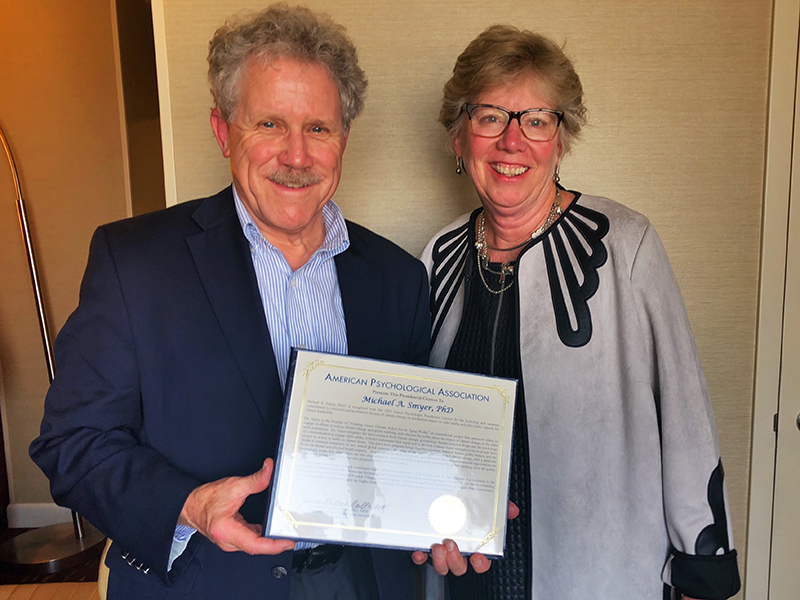 LEWISBURG, Pa. — Bucknell University Professor of Psychology Mick Smyer was the recipient of two awards at the 2018 American Psychological Association (APA) Convention this month. He received the M. Powell Lawton Award for a substantial lifetime contribution to clinical geropsychology from the Society of Clinical Geropsychology, and a presidential citation as an APA Citizen Psychologist for his work founding Graying Green: Climate Action for an Aging World.
"Dr. Smyer exemplifies the definition of a citizen psychologist by using psychology to make his community a better place," said 2018 APA President Jessica Henderson Daniel, Ph.D., who launched the Citizen Psychologist Initiative to recognize APA members who engage their communities through public service, volunteerism and board membership. "Helping to improve lives one community at a time is how we can change the world."
A member of the Bucknell psychology faculty since 2008, Smyer served as the University provost from 2008 to 2015. He has written and lectured extensively on aging, conducting interviews on such national media outlets as PBS and NPR, among others. In addition to holding leadership roles in national organizations on aging, Smyer has also consulted with Fortune 500 companies, state and national legislative leaders, and higher education organizations on the impacts of aging.
In 2014, he founded Graying Green: Climate Action for an Aging World. The initiative works with climate communicators, climate scientists and community and business leaders to move older adults from anxiety to action on climate issues.
The awards were presented at the APA 2018 Convention, August 9-12 at the Moscone Center in San Francisco.
###
CONTACTS: Mick Smyer, 570-577-1586, mick.smyer@bucknell.edu; Mike Ferlazzo, 570-577-3212, 570-238-6266 (c), mike.ferlazzo@bucknell.edu