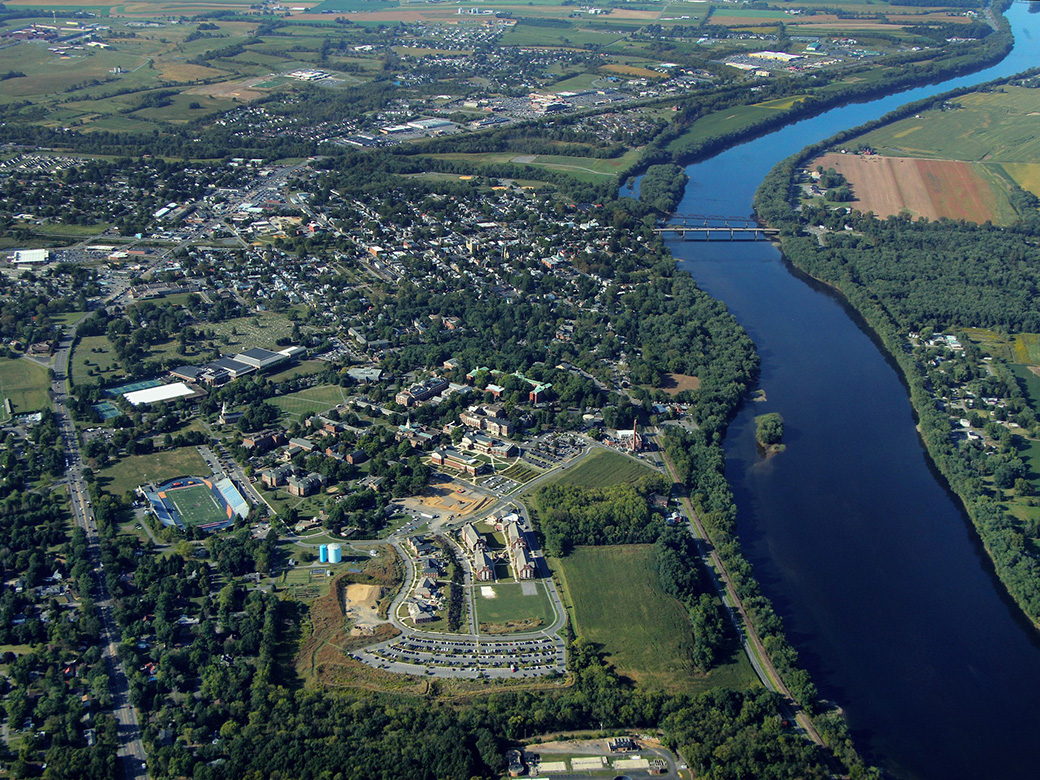 Officials from PA DCNR, Keystone 10 Million Trees Partnership to Speak
LEWISBURG, Pa. — Watersheds, ecosystems and sustainability will be the focus when the Bucknell Center for Sustainability & the Environment hosts the 15th Annual Susquehanna River Symposium on Friday and Saturday, Nov. 6 and 7. The Pennsylvania Water Resources Research Center is also a sponsor of the event, which will be held virtually via Zoom, with poster and oral presentations accessible online, and is free and open to the public with no pre-registration required.
The symposium brings together academics; consultants; officials from state, federal and regional agencies; conservation groups; and the public to discuss ongoing scientific research and innovative projects. Participants will share ideas to increase awareness of the connection between river health and the communities within valley watersheds. Presentations and breakout discussions will explore various management and sustainability issues facing watersheds throughout the mid-Atlantic region today.
"One of the symposium's primary goals is to draw together people from all walks of life who share a common interest in rivers, watersheds, communities and the connections therein." said symposium chair Benjamin Hayes, director of the University's watershed sciences & engineering program. "It offers a time and a place where the public can interact with academics, professionals and regulators, all working toward the same goal — ensuring sustainable water supplies and healthy watersheds throughout Pennsylvania."
Cynthia Adams Dunn, a longstanding leader in environmental conservation who currently serves as the sixth secretary of the Pennsylvania Department of Conservation and Natural Resources, will deliver the keynote address on Nov. 6 at 7:30 p.m. A native of Pennsylvania and trained wildlife biologist and watershed ecologist, Dunn has received numerous awards, including the Frances E. Flanigan Environmental Leadership Award from the Alliance for the Chesapeake Bay, the Conservationist of the Year award from the Pennsylvania Federation of Sportsmen's Clubs and Pennsylvania Wildlife Federation, and the Conservationist of the Year award from the Appalachian Chapter of the Audubon Society.
From 8 to 10 p.m., over 40 students and faculty from 11 universities and Geisinger will present their research posters. Posters can be viewed ahead of time at the symposium website and the public can interact live with the authors via Zoom during this time.
Saturday morning offers three, one-hour special sessions on topics especially important in 2020:
9 a.m. – 10 a.m. Scientific research during pandemics. The COVID-19 pandemic has impacted everyone's lives and this session is a way for everyone to share their stories and ideas about ways to advance research when one can't be in the field or laboratory.
10 a.m. – 11 a.m. Diversity and inclusion. Listen to others and identify actions the watershed sciences and environmental conservation movement should take to remove discrimination and eliminate racism. Share ways that your organization has been able to improve diversity and inclusion, eliminate stereotypes, and create a healthy environment for all.
11a.m. – 12 noon Science and Communications. Explore ways to better disseminate and communicate your science to the public, policymakers, reporters, voters and other key audiences. Learn how to use social media and other platforms to disseminate information and promote watershed sciences, environmental restoration and many other issues associated with sustainability.
Saturday's plenary address, entitled Clean Water Grows on Trees: Finding Roots through Collective Impact, will be delivered by Brenda Lee Seiglitz, partnership manager for the Chesapeake Bay Foundation's Keystone 10 Million Trees Partnership, from 12 noon to 1 p.m.
Symposium Schedule
Friday, Nov. 6
7-7:30 p.m. University welcome and opening remarks
7:30-8 p.m. Keynote address by Cynthia Adams Dunn, secretary of Pennsylvania Department of Conservation and Natural Resources
8-10 p.m. Poster session
Saturday, Nov. 7
8:45-9 a.m. Welcome and opening comments
9-10 a.m. Conducting field and laboratory research during pandemics.
10-11 a.m. Increasing diversity and inclusion in the watershed sciences.
11-12 noon Communicating science to the public, policy makers, voters, reporters and other key audiences.
12 noon-1 p.m. Plenary address by Brenda Lee Seiglitz, partnership manager for the Chesapeake Bay Foundation's Keystone 10 Million Trees Partnership
1-3:40 p.m. Oral presentations
3:40-4 p.m. Closing remarks
For free registration and additional information, please visit the symposium website.
###
CONTACTS: Benjamin Hayes, 570-577-1830, benjamin.hayes@bucknell.edu;
Samantha Myers, BCSE Operations Manager 570-577-2437, samantha.myers@bucknell.edu; Mike Ferlazzo, 570-286-6266 (c),
mike.ferlazzo@bucknell.edu