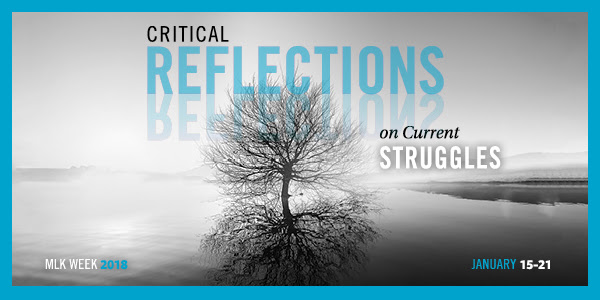 Bucknell University's 2018 Martin Luther King Jr. Week will feature five prominent scholars who will recall Dr. King's legacy while providing "Critical Reflections on Current Struggles" during a week-long series of public events Jan. 15-21.
The series will begin on Martin Luther King Jr. Day, Jan. 15, with a 7 p.m. talk by Eddie S. Glaude, the William S. Tod Professor of Religion and African American Studies at Princeton University, titled "How Race Still Enslaves the American Soul" in the Elaine Langone Center (ELC) Forum.
On Jan. 16, Khalid Latif, the first Muslim chaplain at New York University and previously the youngest chaplain in the history of the New York City Police Department, will conduct both a noon lunch discussion in Walls Lounge and a 7 p.m. lecture "Rise Above Hate/I am Not What is Broken" in the ELC Forum.
Raffi Freedman-Gurspan, director of external relations at the National Center for Transgender Equality and the first openly transgender staffer to work at the White House, will also conduct a Walls Lounge lunch discussion and evening lecture on Jan. 17. She will discuss "The Quest for Transgender Equality" at 7 p.m. in the ELC Forum
On Jan. 18, two scholars from Princeton University and the James Madison Program in American Ideals and Institutions will discuss the purpose of a liberal arts education through the lens of King's legacy and philosophy at 7 p.m. in the Weis Center for the Performing Arts. Cornel West, the Princeton University Class of 1943 University Professor in the Center for African American Studies Emeritus and the Senior Scholar in Politics for the James Madison Program, will join Robert P. George, Princeton's McCormick Chair in Jurisprudence and the founding director of the James Madison Program, in the conversation.
MLK Week events will conclude with the fourth annual Interfaith Service for Peace and Justice on Jan. 21 at 11 a.m. in Rooke Chapel. It will consist of readings, reflections and music representing a variety of religious traditions.
All events are free, although RSVP is required for both luncheon discussions to griot@bucknell.edu.
In support of Dr. King's emphasis on service, organizers have established a charitable gift drive to benefit individuals and families in Bucknell's local area. Requested contributions include personal hygiene items, Cheerios, children's hats/mittens (new or gently used) and school supplies (new or gently used). Campus drop-off locations include the LC Mall, ELC Cap Center and evening events.
Martin Luther King Jr. Week is presented by the president.