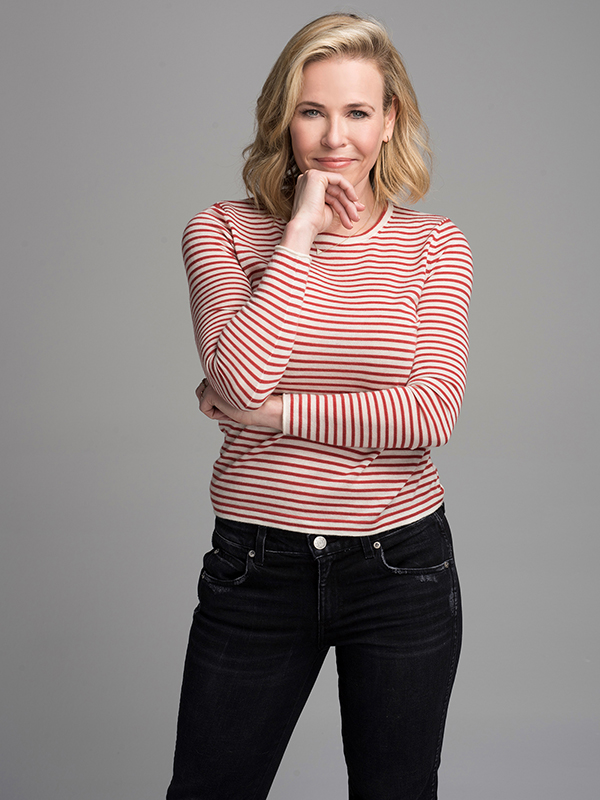 LEWISBURG, Pa. – Comedian and author Chelsea Handler will participate in a fireside chat on social activism on Tuesday, April 3, at 7 p.m. in Bucknell University's Weis Center for the Performing Arts. The discussion will be moderated by Bucknell philosophy professor and department chair Sheila Lintott and a 20-minute Q&A will follow.
Free tickets are available for the Bucknell community on April 3 from 12 to 4 p.m. at the CAP (Campus Activities and Programs) Center, Weis Center, and online through the campus box office. One hundred tickets will be available at 6 p.m. for the general public and Bucknell community the day of the event at the Weis Center Box Office.
Handler is hosting a series of town hall events centered around social activism. She'll engage in a humorous discussion about the current state of modern culture and politics. Her aim is to encourage everyone to become more informed about the issues that impact their lives and get involved in their communities.
Handler's talk shows, best-selling books, and stand-up comedy have attracted millions of fans worldwide. In May 2016, she premiered an all-new talk show for Netflix, Chelsea. The first of its kind for the global on-demand generation, the show tackles today's tough issues with her sharp wit and fearless curiosity. She can also be seen in Chelsea Does, a Netflix documentary series.
As the host of E!'s top-rated Chelsea Lately, Handler became the first female to break into the otherwise male-dominated late-night arena. She ended the show in 2014 after a successful eight-year run in order to pursue other interests.
Handler's five best-selling books include My Horizontal Life (2005), Are You There, Vodka? It's Me, Chelsea (2008), Chelsea Chelsea Bang Bang (2010), Lies That Chelsea Handler Told Me (2011), and 2014's Uganda Be Killing Me, her fourth non-fiction title to debut at No. 1 on The New York Times Best Seller List.
Handler has been honored by TIME magazine as one of its annual "TIME 100"; Glamour magazine as one of its 2011 Women of the Year; and the Human Rights Campaign, which gave her its Ally for Equality Award in 2009.
The event is sponsored by the Bucknell Student Lectureship Committee.
###
CONTACT: Mike Ferlazzo, 570-577-3212, 570-238-6266 (c), mike.ferlazzo@bucknell.edu