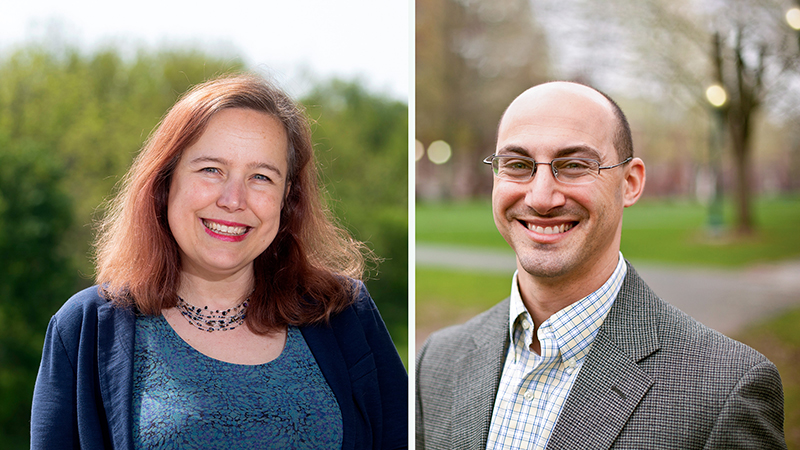 LEWISBURG, Pa. — Bucknell University professors Joe Tranquillo, biomedical and electrical engineering; and Margot Vigeant, chemical engineering, were recently elected to the American Society for Engineering Education (ASEE) Academy of Fellows.
The professional distinction is conferred by the ASEE Board of Directors to a member with outstanding qualifications and experience in engineering or engineering technology education or allied field, and ASEE contributions. The Bucknell professors were conferred during a virtual ceremony on June 24.
Tranquillo joined the Bucknell College of Engineering faculty in 2005 and is also director of the University's Teaching & Learning Center. He is a National Academy of Engineering Frontiers of Engineering Education Fellow, Senior Fellow of IEEE, NSF Pathways to Innovation Faculty Fellow, and past chair of the ASEE Biomedical Engineering Division. He has been recognized with awards including the National Biomedical Engineering Teaching Award and the ASEE Theo Pilkington Outstanding Educator, and has been nominated twice for the CASE US Professor of the Year.
"Little did I know that teaching our incredible students, and sharing ideas with such smart, dedicated and creative colleagues, would profoundly change me," Tranquillo says. "The quote in the library really is true — 'we are all teachers here.' And Bucknell has taught me well!"
Vigeant joined the Bucknell faculty in 1999 and has previously served as associate dean of the College of Engineering. She was co-recipient of the Martin Award for Best Paper in the ASEE Chemical Engineering Division in 2018, and she won the AIChE EdDiv Award for Excellence in Chemical Engineering Education Research in 2017. Long a champion for the power of hands-on, student-directed learning, Vigeant is past chair of the ASEE Chemical Engineering Division, the Robert L. Rooke Professor of Engineering and an Apple Distinguished Educator.
"I'm honored and grateful to my colleagues who supported me not only for this nomination but throughout my career to help me reach this point," Vigeant says. "I see ASEE's mission of bringing excellence, innovation and access to engineering education as my own as well."
Tranquillo and Vigeant join Professor Mike Prince, chemical engineering, as Bucknell's three ASEE Academy Fellows.
###
CONTACT: Mike Ferlazzo, 570-238-6266, mike.ferlazzo@bucknell.edu