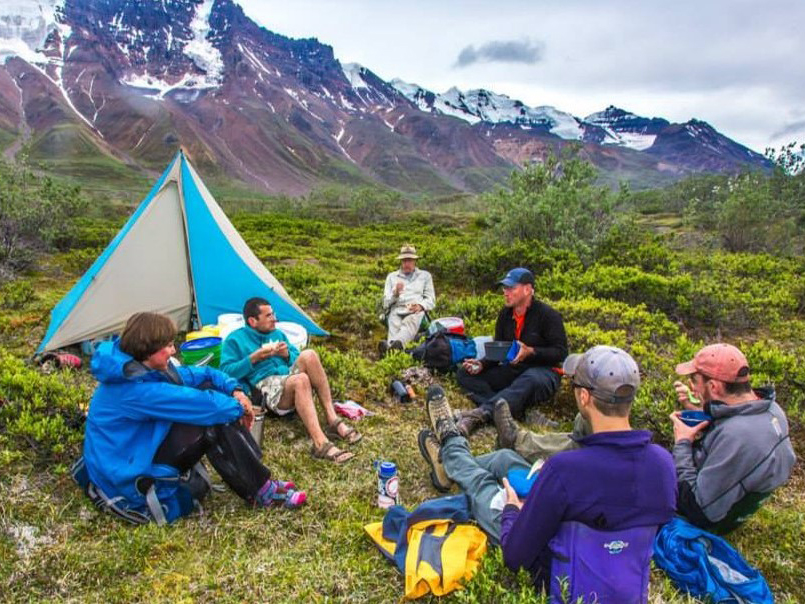 Volcanoes Are Some of the World's Largest but Have Been Scientific Engimas
LEWISBURG, Pa. – Hawaii's Kilauea volcano captivated the world's fascination this spring and summer when eruptions spewed lava, destroying hundreds of homes and sending thousands fleeing. But larger and potentially more destructive active volcanoes exist in the remote, glaciated terrain within Alaska's Wrangell St. Elias National Park and Preserve. Now thanks to a team of scientists that includes Bucknell University geology and environmental geosciences professor Jeff Trop and his students, the world knows more about some of the world's largest active volcanoes in case a major eruption would take place.
The researchers, which include geological scientists from the University of Alaska Fairbanks and Kansas State University, have documented new findings in a paper just published online by the journal Terra Nova. They also presented on their results at the American Geophysical Union conference in Washington D.C. on Dec. 11.
Their paper provides a long-term geologic record of the formation of the volcanoes and their magma activity along the Wrangell Volcanic Belt, which covers over 2,000 square miles with some of the highest peaks in North America, including Mount Wrangell, one of the largest active volcanoes in the world. These Alaskan volcanoes in the Wrangell Mountains are classified as either a "high threat" or "moderate threat" in the U.S. Geological Survey National Volcanic Threat Assessment, placing them among some of the world's most hazardous. A voluminous eruption of one of these massive Wrangell volcanoes could shut down air traffic in the northern Pacific region and affect global climate.
While Trop reports that volcanoes along this belt have been actively releasing steam and small ash plumes over the past century, there has not been a significant eruption of lava or ash during that time — although the potential always exists.
Using sediment collected from rivers draining the volcanoes, as well as on-ground geological mapping and rock sample collection, the researchers have found evidence of active magma production within these volcanoes for over 30 million continuous years — much longer than what had previously been documented. Their research, coupled with prior studies, also shows that the lengthy history of magmatism is related to the volcanic belt's position above the edge of a tectonic plate moving with another at a low angle together with the region's faults, acting as conduits for magma transport.
"We've found the formation of these volcanoes to be different than other classical subduction-related volcanoes," Trop said. "The Wrangell Volcanoes being above the edge of an oceanic plate subducting at a low angle leads to increased magma generation due to flow along the edge of the subducting slab and larger slab surface area at a depth, which may be what's driving the continuous activity and the size of the volcanoes."
The rugged, remote terrain within the Wrangell St. Elias National Park and Preserve required the researchers to conduct fly-in field work from Devil's Mountain Lodge, the nearest small town and airstrip.
Bucknell University Professor Carl Kirby and undergraduate students — senior Ben Bliss and former student Brian Moretti '18 — also contributed to the study and have co-authored a number abstracts presented at scientific conferences.
Funding for their research was provided, in part, by a National Science Foundation grant.
###