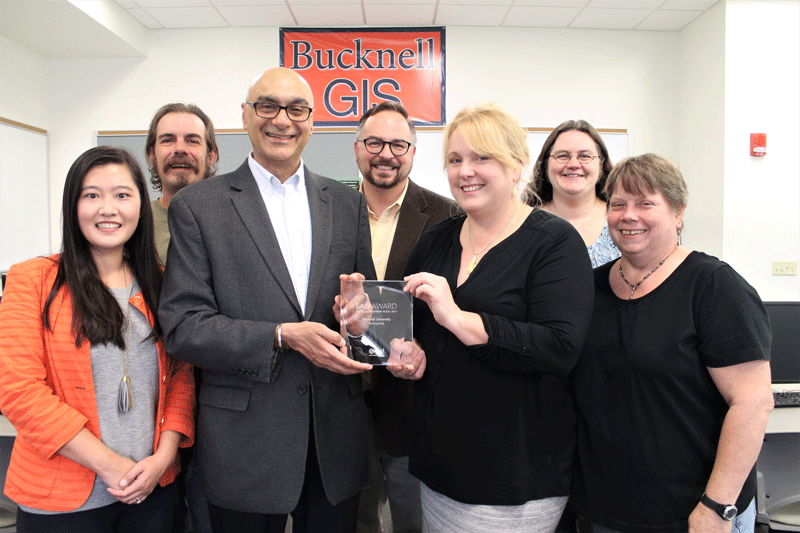 Esri, the global leader in spatial analytics, presented Bucknell University's Digital Pedagogy & Scholarship team with a Special Achievement in GIS (geographic information systems) Award (SAG Award) at its annual Esri User Conference. Selected from over 300,000 eligible candidates, Bucknell received the award for its innovative application of technology, data collection, geospatial information visualization, and thought leadership through GIS in the field of higher education.
"The SAG Awards provide a great opportunity to showcase all the outstanding achievements of our users," said Jack Dangermond, Esri founder and president. "The Special Achievement in GIS Award recognizes exemplary organizations implementing spatial analytics technology to change the world. Highlighting the good work of users — in industries ranging from commerce to government — benefits the entire GIS community, and that's very valuable."
Bucknell's Digital Pedagogy & Scholarship team partners with faculty and students to integrate GIS into courses and research projects, identifies and applies appropriate methodologies, creates spatial datasets, collaborates with faculty on developing course materials and scholarly publications, and helps faculty and students develop GIS technical expertise. The team includes staff from four divisions within Library & Information Technology and over the last eight years has provided support to faculty and students from 28 academic departments and initiatives, 67 courses and 97 research projects.
"Bucknell faculty advocated for GIS support and invited us into their teaching and scholarship," said Janine Glathar, Bucknell digital pedagogy and scholarship specialist for GIS. "They are the heart of this program and the people, along with our undergraduate students, who deserve the most credit for this award."
Bucknell was the only organization in the "Libraries and Museums" category to earn a SAG Award, and among just 180 organizations worldwide. Esri staff annually nominate hundreds of candidates from around the world for consideration, and Dangermond selects the finalists.
More information on how Bucknell is innovating through GIS is available here.
About Esri
Esri, the global market leader in geographic information system (GIS) software, offers the most powerful mapping and spatial analytics technology available. Since 1969, Esri has helped customers unlock the full potential of data to improve operational and business results. Today, Esri software is deployed in more than 350,000 organizations including the world's largest cities, most national governments, 75 percent of Fortune 500 companies, and more than 7,000 colleges and universities. Esri engineers the most advanced solutions for digital transformation, the Internet of Things (IoT), and location analytics to inform the most authoritative maps in the world. Visit us at esri.com.
###
CONTACTS: Mike Ferlazzo, 570-577-3212, 570-286-6266 (c), mike.ferlazzo@bucknell.edu; Janine Glathar, 570-577-1990, jlg046@bucknell.edu