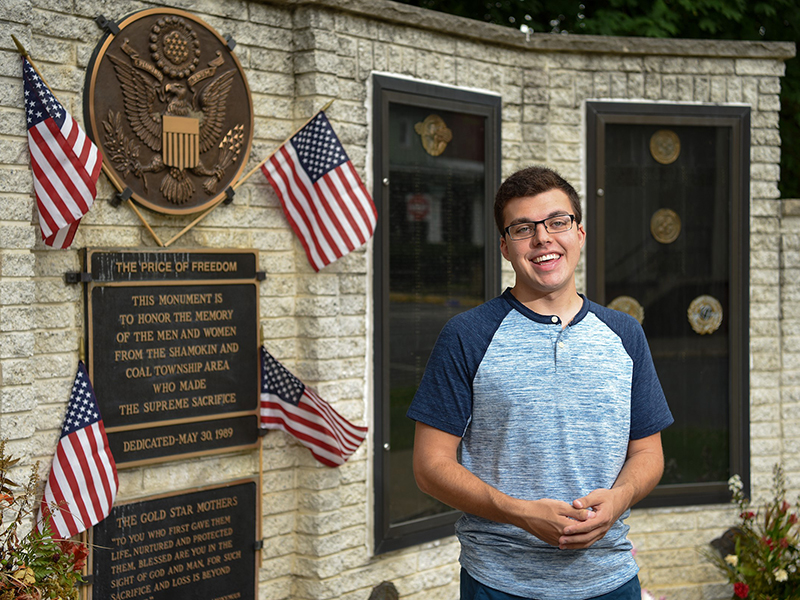 Bucknell Faculty Bill Flack, Clare Sammells also Receive Fulbright Awards
LEWISBURG, Pa. — To say recent Bucknell graduate Tyler Candelora '19 has a personal connection to coal would be an understatement. A native of Coal Township, Pa., his grandfather, Peter Murphy, was an Irish coal miner who died of black lung, and Candelora himself has worked in the industry for his father, David, who owned a coal delivery truck.
His connection and curiosity about the industry led Candelora to do coal-related research during his Bucknell academic career — first studying monuments and memorials in central Pennsylvania's anthracite coal region, then the region's historical coal mining accidents, and now coal towns outside the U.S. He will continue that research in Argentina next March, when he will begin work as an English teaching assistant as the recipient of a Fulbright U.S. Student Program grant.
Administered by the U.S. Department of State and the J. William Fulbright Foreign Scholarship Board, these awards send U.S. citizens abroad for an academic year to research, teach or study.
"Because the teaching load is roughly 25 hours per week, they [Fulbright program administrators] propose that you do something else — and that can be working with a non-profit, taking classes, or a small research project," said Candalora, who majored in comparative humanities and Spanish. "So I proposed that I would take classes to prepare for graduate school, and that I would also be interested in doing some research on coal mining areas in Argentina. There are just a few, but I found some cities that I thought may be interesting."
Finding South American Coal
When Candelora studied in Chile in Spring 2018, he conducted research on the heritage and tourist sites in the coal mining town, Lota. He looks forward to returning to South America, this time visiting Argentina to extend his research.
"Ideally I'd be interested in studying monuments and memorials in a coal city, but really, I think it would be a long shot to find that," he said. "Either way, I would still research coal mining areas because one of the sub-genres I'm interested in is labor history and underrepresented people — coal miners being one of those — and how they fit into the larger histories of these countries."
As part of his Fulbright teaching grant, Candelora also hopes to create a conversational English coffee hour at the school where he's assigned.
Faculty Fulbright Awards
In addition to Candelora, Bucknell psychology professor Bill Flack and sociology and anthropology professor Clare Sammells have also recently received Fulbright awards.
Flack was awarded a grant from the Fulbright Scholar Program to research sexual assault among university students in Ireland and teach about sexual violence and psychological trauma at the National University of Ireland at Galway during the 2019-20 academic year.
Sammells received a Fulbright Flex Award, which will support three summers of research in Bolivia for her project, "Gastro-politics and Emerging Gastronomic Nationalism in La Paz, Bolivia."
2018 graduate Adriana DiSilvestro, an environmental studies major, was also named a Fulbright alternate for her proposal to conduct research on ecotourism in Tanzania.
###
CONTACT: Mike Ferlazzo, 570-577-3212, 570-238-6266 (c), mike.ferlazzo@bucknell.edu