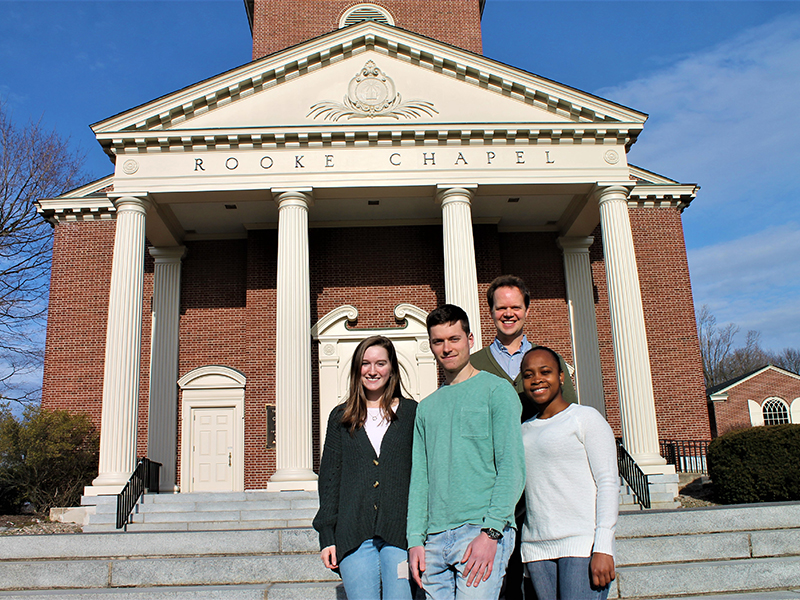 Congregation Funding to Eliminate Debt for Families in 15 Central Pa. Counties
LEWISBURG, Pa. — More than $15,000 in donations from the Rooke Chapel congregation at Bucknell University will be used by the debt-forgiveness nonprofit RIP Medical Debt to erase more than $1.6 million in medical bills for thousands of low-income residents from 15 central Pennsylvania counties.
The donations will erase bills for 2,299 households who earn less than twice the federal poverty level. Rev. Kurt Nelson (photo back middle), director of religious & spiritual life and chaplain for the Protestant community at Bucknell, credits the congregation for their contributions to assist families in need.
"They're [the congregation] really pleased by this debt forgiveness effort and responded," says Nelson. "People are aware of how significant the issue of medical debt is for the residents of this region. One of the families from a member of our choir donated twice on the same Sunday, so it clearly resonates with our congregation."
RIP Medical Debt, a nonprofit started in 2014 by two former debt collectors, uses donations to buy large bundles of medical debt for pennies on the dollar. RIP purchases unpaid and unpayable debt at significantly reduced rates. Once medical debt is in RIPs possession, it forgives it with no strings attached. It takes roughly $100 to erase $10,000 worth of debt.
The Rooke Chapel contribution will erase medical debt for families in Bradford, Clinton, Cumberland, Dauphin, Lycoming, Mifflin, Montour, Northumberland, Potter, Snyder, Sullivan, Susquehanna, Tioga, Union Wyoming and Wyoming counties. The average amount erased was just under $700 per recipient.
"It feels like another layer to our ministry and community," Nelson says. "This is really a meaningful way for Bucknell to connect with folks even if we don't know their names. It connects to an important idea of forgiveness in our tradition that goes back a long way — in this case, medical forgiveness."
Nelson cites the Chapel student leadership team of Max Skirpan '20 (photo front middle), Alicia Armstrong '21 (photo right) and Shana Clapp '23 (photo left) as well as Spiritual Life Coordinator Stefani Sassaman for leading the successful fundraising effort.
"I am elated that we are able to make such a tremendous change in someone else's life," Armstrong says. "By being a part of this team, I feel like I have a true purpose in this community."
"It's definitely an overlooked issue in our country and this area so it feels even more important that we give it all the attention and resources that we can," adds Clapp. "It's easy to stay in our little 'Bucknell bubble' on campus, but this is a way to bridge that divide to the broader community."
RIP Medical Debt is notifying beneficiaries about the donation by the Rooke Chapel congregation to eliminate their medical debt.
Nelson says weekly Rooke Chapel services are continuing online on Sundays at 11 a.m. at https://bucknell.zoom.us/j/544378321 or facebook.com/rookechapel.
###
CONTACTS: Kurt Nelson, 570-259-3152 (c), kurt.nelson@bucknell.edu; Mike Ferlazzo, 570-238-6266 (c), mike.ferlazzo@bucknell.edu