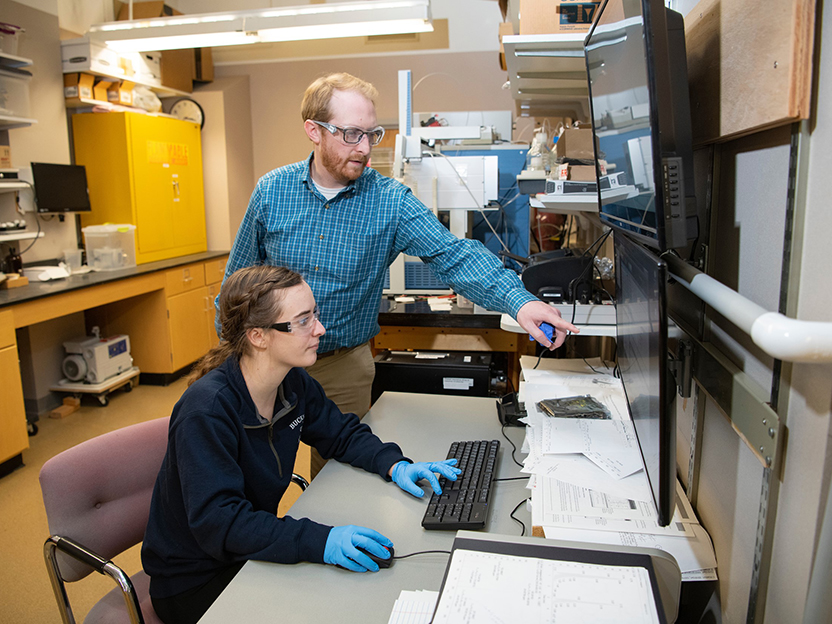 Chemistry Professor Shares Expert Advice About Thirdhand Cigarette Smoke for Latest Episode
LEWISBURG, Pa. — Doug Collins has been a fan of the PBS show Ask This Old House for some time. Being an indoor air quality researcher, the Bucknell chemistry professor particularly enjoys episodes that touch on those topics.
So he recently reached out to the show via Twitter to say he'd like to see more episodes that include indoor air quality questions. Collins soon got an email from Ross Trethewey, home technology expert on the show, in response to his tweet.
"He told me that they had received a letter from someone who was looking to buy a house and it sounds like it had a lot of cigarette smoke – or thirdhand smoke – lingering on the inside surfaces in the building," Collins says. "They wanted some expert advice."
Collins soon found himself on a conference call with Tretheway, painter Mauro Henrique, and fellow air quality researcher Peter DeCarlo, an environmental health & engineering professor at Johns Hopkins whom Collins invited to join the call. The professors went on to provide expertise on how to remove cigarette smell from a home and why it is important to do so. Their efforts inform an integral part of the an episode that will first air on Thursday, May 7.
The advice Collins provided was aided, in part, by research he's doing with Bucknell students (see photo of Collins with first-year student April Hurlock) on thirdhand cigarette smoke — the term for smoke stuck to surfaces that can lead to long-term exposure, unlike the more well-known secondhand smoke that dissipates more quickly with ventilation. Their work analyzes the reactions that chemicals in thirdhand smoke create with the materials they cling to.
"The work we're doing at Bucknell has informed the conversations I've had with the show and the expert advice I've provided," Collins says. "Our research absolutely is informing the science that I was trying to communicate to them."
Collins suspects he may get a mention in the episode's final credits. But regardless, he's just thrilled to be a part of the show.
"It's been the long road to get to this point, and I'm really excited and proud to be a part of it," he says. "I really like what they do and that the show maintains an educational nature for the public. It brings good, solid advice to people that is thoroughly researched and has a high degree of credibility. I feel good that I will be able to contribute as well."
###
CONTACTS: Doug Collins, 570-577-3683, d.collins@bucknell.edu; Mike Ferlazzo, 570-238-6266, mike.ferlazzo@bucknell.edu