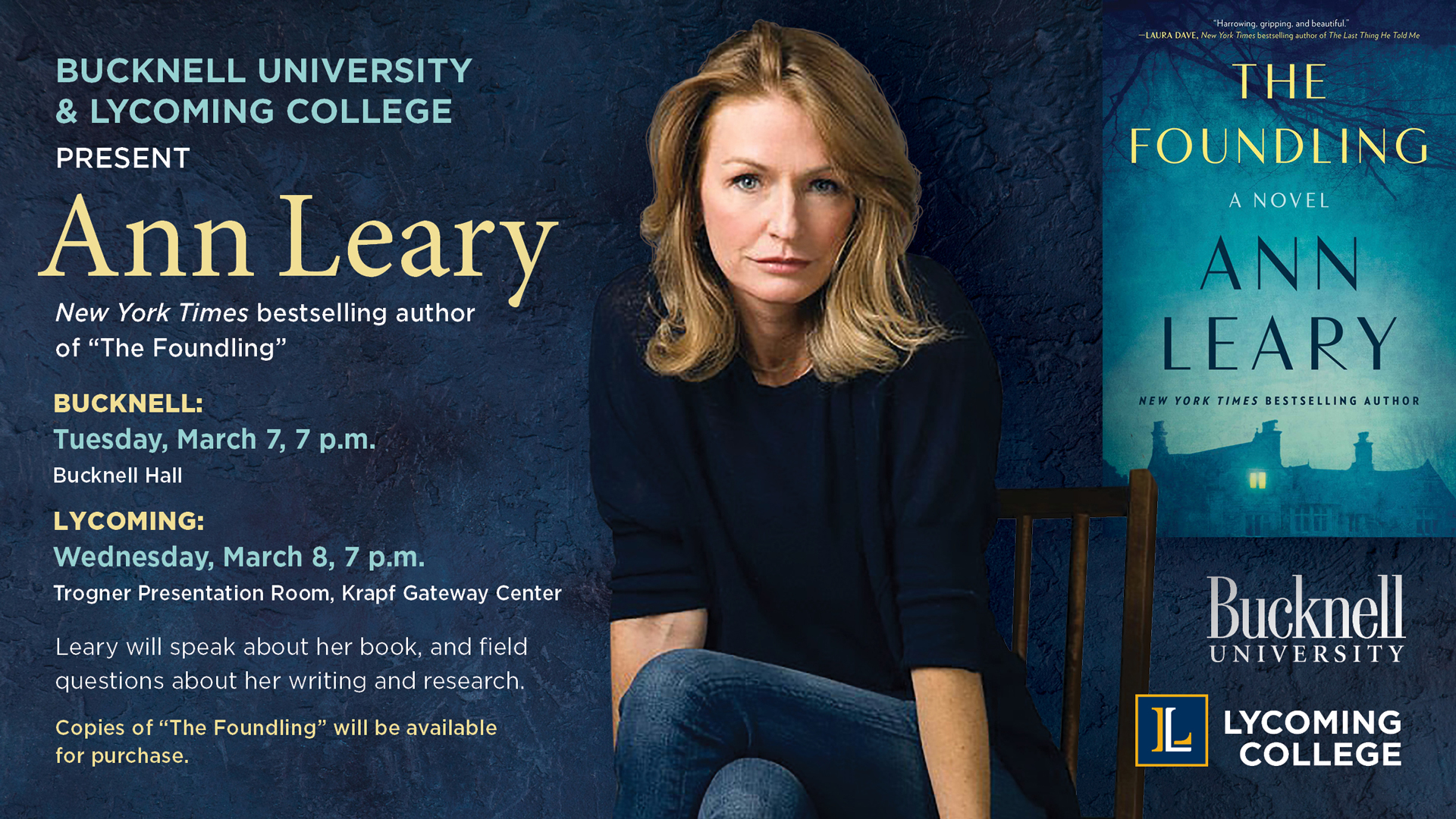 WILLIAMSPORT, Pa. — (Feb. 15, 2023) — New York Times bestselling author Ann Leary will lecture at both Bucknell University and Lycoming College March 7 and 8 respectively about her book, The Foundling, an historical fiction novel based on the Laurelton Village for Feebleminded Girls and Women of Childbearing Age in Union County. Bucknell will host Leary on Tuesday, March 7, at 7 p.m., in Bucknell Hall. Lycoming will host her on Wednesday, March 8, at 7 p.m., in the Trogner Presentation Room in the Krapf Gateway Center. These collaborative events are free and open to the public.
Laurelton Village for Feebleminded Girls and Women of Childbearing Age opened in 1917 and was used to segregate and care for "feebleminded" women aged 16-45. The facility was established on the principles of eugenics and the premise that one's intellect or mental deficiency was hereditary and the segregation of those individuals was crucial to ensure they did not reproduce and pass down those genetics.
In addition to speaking about her book, Leary will address the research that she did on the institution itself and its historical significance, and answer attendee questions during a Q&A period.
"Through my own historical research on the State Industrial Home for Muncy, I became aware of the connections between the real superintendent of Laurelton, Dr. Mary Wolfe, and Bucknell University. With Ann planning to visit the area, it seemed like a great opportunity for her to also speak at Bucknell, which is coincidentally the alma mater of both of her parents," said Kerry Richmond, associate professor of criminal justice-criminology at Lycoming College and chair of the department. "Both institutions are thrilled to have the opportunity to host such a celebrated author, and one that has researched and written about a topic that is relevant to such a broad range of our academic programs."
Erica Delsandro, assistant professor of women's & gender studies at Bucknell added, "The Foundling brings to light the complex interconnectedness of science, gender norms and politics in the early 20th century. Ann's research into the history of Laurelton Village brings this history home. We are eager to host Ann's return to the area and look forward to conversations that will emerge from her visit."
Leary is the New York Times bestselling author of a memoir and four novels including The Good House. Her work has been translated into 18 languages, and she has written for The New York Times, Ploughshares, NPR, Redbook, and Real Simple, among other publications. Her essay, "Rallying to Keep the Game Alive," was adapted for Prime Video's television series, Modern Love. She lives with her husband, actor Denis Leary, in New York.
Copies of The Foundling will be available for purchase at both events. More information about the author is available at AnnLeary.com.
The March 7 talk at Bucknell is sponsored by the departments of women's & gender studies; history; sociology & anthropology; and psychology; as well as the University Lectureship Committee and Stadler Center for Poetry & Literary Arts. The March 8 talk at Lycoming is sponsored by the departments of criminal justice-criminology; English; gender, sexuality and women's studies; history; and anthropology- sociology, as well as the College's Humanities Research Center.
About Bucknell University
Founded in 1846 along the banks of the Susquehanna River in historic Lewisburg, Pa., Bucknell University is a selective, highly ranked national university that stands at the intersection of top-ranked liberal arts, engineering and management programs. Students choose from more than 60 majors and 70 minors in the arts, engineering, humanities, management, and natural and social sciences, as well as extensive global study, service-learning and research opportunities. Bucknell's 3,700 undergraduates enjoy a low 9:1 student-faculty ratio, and exceptional opportunities to collaborate with faculty. Bucknell offers students outstanding leadership opportunities, including through more than 200 student clubs and organizations, and 27 NCAA Division I athletic teams. Learn more at https://www.bucknell.edu.
About Lycoming College
Founded in 1812, Lycoming College is one of the nation's oldest and most respected liberal arts colleges. Today, our community of 1,200 active learners from 31 states and territories and 15 countries comprises a student body that is 35 percent domestic students of color or international, all of whom work with our renowned scholars to craft customized combinations of market-driven majors, minors and concentrations across our 40+ academic programs. Students compete in 19 NCAA Division III sports, participate in faculty-driven research, thrive in a robust program of internship experiences, and study abroad in more than two dozen countries. Lycoming College has one of the highest endowment-per-student ratios in the country. The institution is a member of the Annapolis Group of Liberal Arts Colleges and is recognized by The Princeton Review as one of The 388 Best Colleges. Lycoming College is dedicated to providing a high-quality liberal arts and sciences education for all students. Learn more at http://www.lycoming.edu.
###
CONTACTS: Mike Ferlazzo, 570-577-3212, mike.ferlazzo@bucknell.edu; Marla Kramer, kramer@lycoming.edu