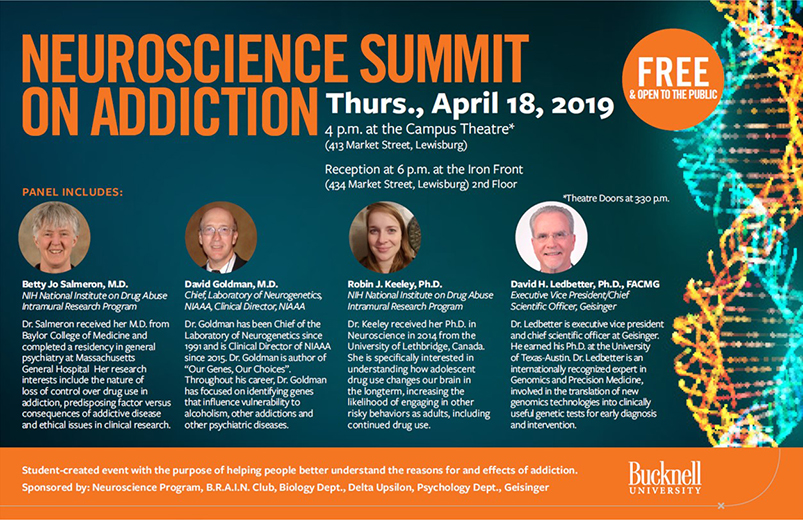 Four Leading Addiction Researchers to Join Bucknell's Grisel at Campus Theatre
LEWISBURG, Pa. — The United States is grappling with one of its worst-ever drug crises. According to the Centers for Disease Control and Prevention, more than 70,200 Americans died from drug overdoses in 2017, including illicit drugs and prescription opioids — a two-fold increase in a decade. Additionally, 1 in 8 U.S. adults have an addictive disorder.
That's why Bucknell University is hosting a Neuroscience Summit on Addiction featuring five leading addiction research scholars on Thursday, April 18, from 4 to 6 p.m. in the Campus Theatre, 413 Market St., Lewisburg. The student-created event is free and open to the public and designed to help people better understand the reasons for and effects of addiction. A reception will follow across the street at the Iron Front Building, 434 Market St.
Bucknell psychology and neuroscience professor Judy Grisel — author of the New York Times bestseller, Never Enough: The Neuroscience and Experience of Addiction (Doubleday; Feb. 2019) in which she chronicles both the research on addiction and her firsthand experiences as a former addict — will moderate the panel, which includes:
"Addiction today is epidemic and catastrophic. If we are not victims ourselves, we all know someone struggling with a merciless compulsion to remodel experience by altering brain function," Grisel wrote in Never Enough. "The personal and social consequences of this widespread and relentless urge are almost too large to grasp. In the United States, about 16 percent of the population twelve and older meet criteria for a substance use disorder, and about a quarter of all deaths are attributed to excessive drug use. Each day, ten thousand people around the globe die as a result of substance abuse. Along this path to the grave is a breathtaking series of losses: of hope, dignity, relationships, money, generativity, family and societal structure, and community resources."
The summit is co-sponsored by the Bucknell Neuroscience Program, Bucknell Researchers, Advocates, and Investigators in Neuroscience (BRAIN Club), Department of Biology, Delta Upsilon, Department of Psychology, and Geisinger.
###
CONTACTS: Christi Shingara, 570-577-1200, christi.shingara@bucknell.edu; Mike Ferlazzo, 570-577-3212, 570-238-6266 (c), mike.ferlazzo@bucknell.edu