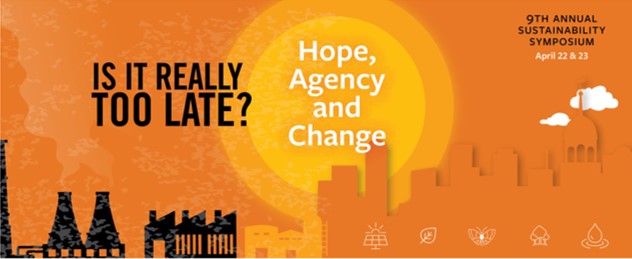 The Ninth Annual Event Will Conduct Discussion on the Role of Radical Hope and Sustainable Change Through the Lens of Environmental Justice
LEWISBURG, Pa. — Bucknell University's Center for Sustainability and the Environment (BCSE) will address climate change and environmentalism at its Ninth Annual Sustainability Symposium entitled "Is it Really Too Late? Hope, Agency and Change," which will begin on Earth Day, Friday, April 22 and run through Saturday, April 23, in the Elaine Langone Center (ELC).
The event will bring together faculty, staff, students and community stakeholders for a forum to share research, teaching, creative works and collaborations that generates discussion on the role of radical hope and sustainable change through the lens of environmental justice.
"Radical hope serves as the foundation of future research, teaching and community engagement where it takes courage, collective efficacy and action to not only envision a just future for human and natural communities, but to actually enact change," says Shaunna Barnhart, BCSE's Place Studies program director. "That's why we are bringing the community together for this event because we need to come together to take collective action now to preserve our world."
The symposium will feature a welcome and keynote panel discussion by Sachem Hawkstorm, Hereditary Chief of Schaghticoke People, on Friday at 6:30 p.m. in the ELC's Forum (Room 272). Hawkstorm is an advocate for rights of indigenous peoples and focuses on issues surrounding cultural heritage, education and tribal sovereignty. Along with leading People's Climate marches in 2014 and 2017, he also works to strengthen unity among East Coast indigenous tribes such as the United Confederation of Taino People and the Ramapough Lenape Tribal Nation of New Jersey, among others. The title for his talk is "Moving Beyond Sustainability to Regenerative Futures."
Friday's activities will also include a research poster session and ice cream social.
Saturday will feature a 10 a.m. panel discussion entitled "Radical Hope through Food," featuring Joe Detelj, owner, Dreamcatcher Farm; Kurt Nelson, director, Bucknell religious & spiritual life, organizer of the University's "Food, Faith & Justice" spring break service trip; Allison Hess, vice president of Geisinger's HealthServices; and Theresa Dollar '22, a biology major and Bucknell student farm leader. The session will be moderated by Professor Clare Sammells, anthropology, a cultural anthropologist with research interests in food and tourism.
Oral presentations and a retirement luncheon honoring Professor Ben Marsh will also take place Saturday.
Additional topics to be discussed during the symposium include art and the environment, climate, community, ecosystems, energy, food, human rights, humanities and climate change, management, planning, United Nations sustainable development goals, and water.
While the symposium is a free, public event, organizers request that everyone complete the registration form. More information may be obtained at bcse@bucknell.edu or 570-577-1490.
In addition to the symposium on Earth Day, April 22, the BSCE and the Chesapeake Conservancy will start the day at 8:30 a.m. by leading Bucknell students and employees in staking branch cuttings from wetland trees near the Art Barn in order to curb sediment erosion into nearby Miller Run. The event is scheduled to run until 10 a.m.
###
CONTACTS: Samantha Myers, BCSE, 570-577-2437, samantha.myers@bucknell.edu; Mike Ferlazzo, 570-577-3212, 570-238-6266 (c), mike.ferlazzo@bucknell.edu; Nina Smith, nina.smith@bucknell.edu