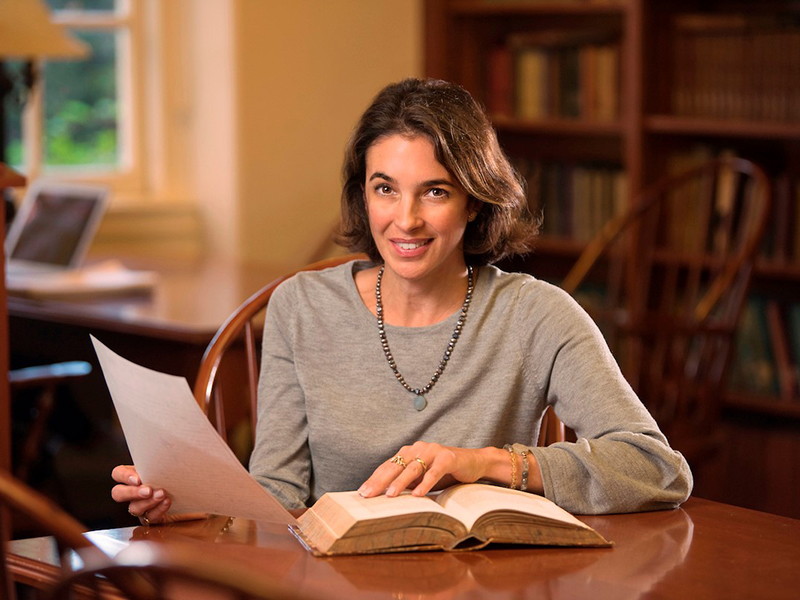 Lisa Perrone, Italian studies, discovered the unmailed note from Filippo Mazzei in a Florence library
LEWISBURG, Pa. — When Professor Lisa Perrone, Italian studies, traveled to Florence, Italy, to research an 18th-century Italian professor and associate of Thomas Jefferson, she made a surprising discovery: a letter to the former president.
Perrone was seeking information about Carlo Bellini, who Jefferson hired in 1779 to teach modern languages at her alma mater, the College of William & Mary. Finding nothing, she tried another tack and began researching Filippo Mazzei, a political philosopher, physician and Italian patriot of the American Revolution whose name frequently appeared in correspondence between Jefferson and Bellini.
That's when Perrone found a "promising letter" from Mazzei that had no documented recipient. But as she transcribed the letter, one name stood out: Monticello. Through further analysis, she found irrefutable connections between the mysterious letter dated Sept. 27, 1812, and one sent by Jefferson to Mazzei on July 9, 1811.
Perrone's essay about the translated letter, "The Advice Jefferson Never Received: Health Counsel Delivered to Jefferson from his Italian Friend Filippo Mazzei, Two Hundred Years Too Late," was published in the spring edition of Common-place, the academic journal of early American life.
"I like to think of this as a real-life ghost story," Perrone said. "This letter was lost for more than 200 years, and Bellini's ghost directed me to it in 2015. After more than two centuries, Mazzei's response has finally made it across the Atlantic. His letter is quite heartfelt, and it is a shame that Jefferson never had a chance to read it."
A Piece of Advice
Jefferson, who was nearing 70 in 1811, wrote that he was "much enfeebled, little able to walk about," and that much of his exercise was done on horseback. Mazzei's advice, which Jefferson never received, encouraged the former president to take up a different health regimen: "Since you have the courage to go riding, I am convinced that you could with your own legs walk at least one mile before lunch, and one before evening […] which you might find more useful than six, or eight, done by horse."
During her research, Perrone found a book in Bucknell's Bertrand Library by Sister Margherita Marchione, a Mazzei scholar, about other letters Mazzei wrote to Jefferson. The letter Perrone discovered was not included in the book, so she drove to Morristown, N.J., last fall to meet with Marchione, now 95, and deliver news of her discovery.
She also recently returned to the National Central Library of Florence, the scene of her find.
"I walked them through my research, and needless to say, they are excited about the value of the letter," Perrone said. "They had no idea to whom it was written. They were especially excited to see that Mazzei did indeed initial the letter."
Perrone is continuing to study Mazzei's friendship with Jefferson this month through a fellowship at Monticello awarded by the Thomas Jefferson Foundation.
"My story reminds us of the importance of old-fashioned archival research," she said. "If you are heading to an archive any time soon, my advice would be to bring along a healthy dose of curiosity. You never know what you might find."
###
CONTACT: Mike Ferlazzo, 570-577-3212, 570-238-6266, mike.ferlazzo@bucknell.edu